Pomocnik/Helper
Emulatory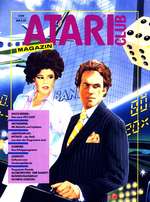 Czasopisma: 655 sztuk
(133)
Materiały scenowe: 31 sztuk
(7)
Materiały książkowe: 121 sztuk
(51)
Materiały firmowe: 16 sztuk
(15)
Materiały o grach: 351 sztuk
(16)
Spi¿arnia Voya na Chomikuj.pl
Bajtek Redux
Zasoby wiedzy
Gry/Games
Wewnêtrzne/Internals
Nowinki tworzone dziêki
CuteNews
[ENG] John Anderson
An interview with John Anderson, the man behind one of the most enjoyable racing games of the eighties – "Rally Speedway".

Karol Wisniewski: Hello John. I found you trough your website (http://john.panelmagic.com/). It seems that you still work in computer business and you live in Florida. What are you doing now as a hobby?

John Anderson: I'm 52 now (in January 2008). My hobbies are Wakeboarding and guitar. I've been a water ski enthusiast since my college days and took up wakeboarding in the mid 90's when it was first gaining some popularity. The Orlando area is blessed to have Orlando Watersports Complex, which is a cable ski park. I've been an annual passholder since the first year it opened. I started playing guitar almost 2 years ago. Learning to play a guitar has been a lifelong desire that's been unfulfilled until now. I have a few songs online at the following url....

http://www.soundclick.com/fly135

I also have a few wakeboarding videos at...

http://www.wakepics.com/member/FLY135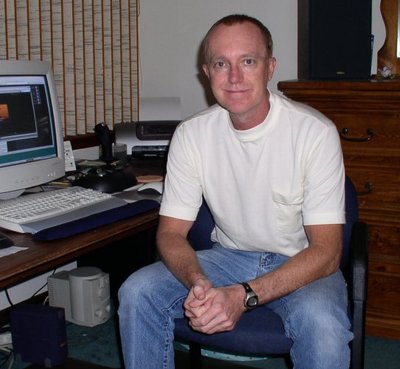 John Anderson



K.W.: Thank you for the links. It has been a long time since your last games so let's start from the beginning. How did you get interested in computers?

J.A.: A friend of mine had an Apple II and the "Space Invaders" game on it was a good copy of the coin-op version. I was a huge fan of "Space Invaders" at the time. I can honestly say that Space Invaders changed the course of my life.

K.W.: I think we all experienced that with some game…What was your first computer?

J.A.: My first computer was an Apple II+. For some reason I can remember that I bought it in May of 1980. I originally had bought a Bally game machine. But it froze up all the time and the "Space Invaders" game on it was a pretty poor copy. So I took it back and got the Apple II+.

K.W.: How did you learn programming?

J.A.: I graduated in 1978 with a BS in Engineering. I didn't really get much education in computers at the time. The job I had after graduation was mostly paper pushing and got boring fairly quickly. I started getting interested in microprocessors and did a lot of reading up on how they work.

K.W.: Why did you start making games?

J.A.: After I got the Apple II+, I started reading up about the people designing games. Since I had been studying microprocessors I decided that I would learn to program on my computer. My first program was written in Basic and used Bill Budge's 3D rendering package to make a simple Space game. I had a really slow update rate so I decided that I would learn assembler and try to speed it up. It turned out that Budge's 3D package was pretty slow and porting my code from Basic to assembly had little effect. But that got me digging deeper into programming the Apple II and I got serious about writing a full game in assembly language. I had developed an interest in playing "Asteroids" and "Defender" on the coin-op machines so I selected "Defender" as the basis for my first game.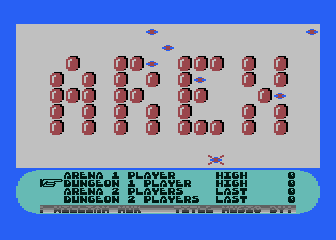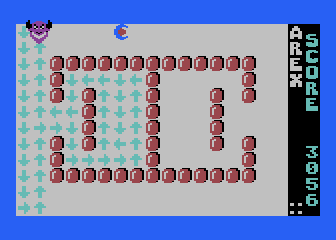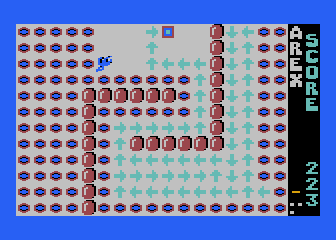 K.W.: Was it hard to get published your first game?

J.A.: Not at all. I sent an early copy of my first game "Eliminator" to Sierra, which later became Sierra OnLine. They offered me a job and a place to live in Fresno, Ca. But I had just purchased a house and was hesitant to move from Florida.

There was a local computer store owned by Scott Adams of Adventure International fame. Dan Horn worked at the store asked me to show my game to Scott. We hit it off great and Scott offered me a good deal. I would get a salary as an employee but retained ownership of my games as a copyright holder. He paid me royalties and had exclusive rights to distribute the games. Scott was a great guy to work for and the whole Adventure International crew was like a big family. I have fond memories of those days. A good friend of mine Paul Shaffer was the voice of the ship's captain in "Sea Dragon". I met him at Adventure International and we remain in contact.

K.W.: It seems that you moved from Apple II to Atari, right? What kind of Atari did you have?

J.A.: Yes, I original wrote three games on the Apple (Eliminator, Rear Guard, and Sea Dragon in that order). I then switched to the Atari and wrote "Rally Speedway" and "Arex". I used an Atari 800 for development. I also purchased a custom drive interface card that allowed the use of parallel double sided double density drives like those used on the TRS-80. As opposed to the much slower serial interface drives on the Atari. I should add that some of these games were original conceived by others.

The game "Arex" was originally designed by William Muk. "Sea Dragon" was a design by Wayne Westmoreland and Terry Gilam. "Rear Guard" was a title by Neil Larimer. I always made my ports unique and designed from the ground up. So my game ports usually a bit different.

The TRS-80 version of "Eliminator" by Wayne Westmoreland and Terry Gilam was in fact a great clone. However, at the time Scott Adams was becoming increasingly concerned about lawsuits from cloning coin-op games. He requested that "Eliminator" not be a clone and because I was an employee I complied. In retrospect I think it was a mistake and I should have protested that decision. But I have no real regrets.

K.W.: "Arex" is very original and difficult game. Was it hard to make this game?

J.A.: "Arex" was a pretty simple game to write. The original game concept was created by William Muk and IIRC he delivered it in the form of a TRS-80 game. I enhanced the graphics, created all original levels, and added music to the game. Phil Case performed the port of "Arex" to the C64 using my code.

K.W.: How many levels does "Arex" have? I reached number 32 and it seems that the next ones are just a repeat of the first levels. Does it have an ending?

J.A.: I'm sorry but I can't remember. To the best of my recollection it does not have a completion screen. And 32 was the number that came to my mind with the number of levels, but I didn't really have any confidence that I correctly remembered.

K.W.: The thing I remember the most from "Arex" is jester-devil face, which appears right after loosing. Whose idea was that?

J.A.: The devil face was my idea. I was always trying to think of ways to put "eye candy" in my games. The devil face was one of those things.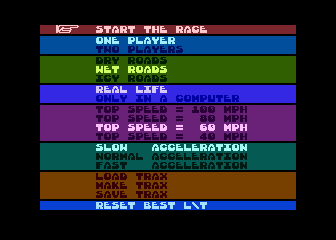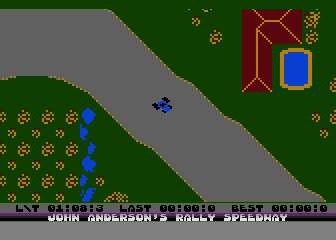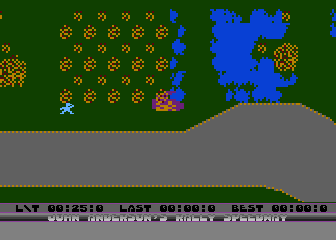 K.W.: "Rally Speedway" - pure classic. Could tell us more about this great game - the idea, programing process, sound effects, etc.?

J.A.: The original idea for "Rally Speedway" came from my love of playing "Auto Racing" on the Intellivision. I took that love and tried to create a graphically pleasing environment. The driver jumping out of the crashed car, sometimes in flames and dousing himself was another eye candy idea. The sound effects were fairly easy because of the Atari sound chip. I liked the Atari much more than the C64, and I think the reasons were evident in that the Atari version of "Rally Speedway" was much nicer than the C64 version. It was all written in 6502 assembler.

The background was all character set based graphics. Creating the character set that would allow the variety of background images was probably the most challenging part of writing the game. The background was assembled from square plots of landscape, of which each were constructed of characters. My friend and co-worker Paul Shaffer was partially responsible for the "trax construction set", as we brainstormed together about what would be fun to have in the game. So it's difficult for me to say exactly what ideas were solely mine.

One other interesting aspect was that I had to fit the whole game on a 16K cartridge. I had a conversation over beers one night with Sarky Starks, another Adventure International author. He offered up a nice clear concise explanation of Huffman compression and I used that to fit the background graphics in the cartridge. Years later after becoming more knowledgeable about programming, I read a textbook explanation about Huffman encoding and found Sparky's verbal explanation over beers far more informative than the textbook.

Games from the begging of the 1980s were very simple. You have put into one game a lot of options and factors (top speed, rate of acceleration and road conditions) plus a "construction set". Reasons?

Simply because I felt that I needed to make a better version of "Auto Racing". The Atari has the capability and I enjoyed coming up and implementing ideas. I regret not making "Eliminator" a true "Defender" clone, so I really wanted "Rally Speedway" to be a success.

K.W.: Do you think that "Micro Machines" were inspired by "Rally Speedway"?

J.A.: I can't say but even if it was so, I would have to say that RS was inspired by Intellivision.

K.W.: True. Tell us - how did your publisher react? Did he instantly know that you just gave him a big hit?

J.A.: I think everyone had high expectations for the game at that time. We all thought that is was a winner.

K.W.: Do you remember, how many copies of "Rally Speedway", "Arex" and the rest of your games were sold?

J.A.: I wish I could remember the answer to that question. I would say that the overall sales of my games didn't come close to what I had hoped. It provided me with a decent income at the time, but from a monetary aspect it wasn't a big success.

K.W.: You still have an ownership of your games including "Rally.." and "Arex". What is current status of your games? Since there no place to buy it (maybe I'm wrong about it?) are they "freeware"?

J.A.: I have seen free downloads and emulators. I don't pursue any claims of ownership to get money. I do appreciate the recognition. If a large company was to produce and sell the games in large quantity I would assert my rights to royalties. But I think that would be highly unlikely.

K.W.: Thank you for supporting emu scene! We really appreciate this. By the way - did you know about this project - http://jirkasuv.duch.cz/x86/rally/?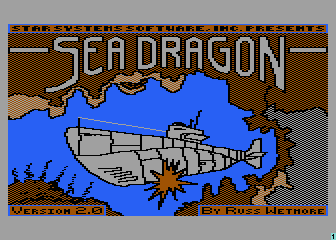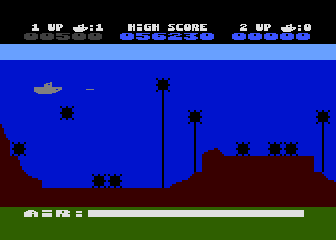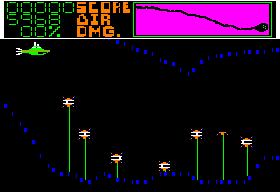 Atari (top) and Apple II (bottom) version



J.A.: No I didn't. Thanks for the link. I hope he completes it.

K.W.: Why did you stop making games?

J.A.: The game market dried up for a while in the early mid 80's. Revenue coming into Adventure International was declining. I pursued some programming interests in an attempt to expand my horizons. Learning Pascal and C coding for example. Then I went to work for a simulation company and produced a game used by the Army. It was called VIGS (Videodisc Gunnery Simulator). It was very much a videogame teaching tank gunnery. I continued to work with 3D graphics for several years at the company. But I ended up changing to working with video compression because I was offered a substantial increase in salary to head up an office of programmers. And that's the type of work I've been in every since.

K.W.: Do you think that video compression actually changed the computer world?

J.A.: There is no doubt that it's changed the world in general. DVD's, Digital TV, HiDef, video conferencing, Youtube, etc... The list is endless. Video that's been through compression and decompression is the only way video will be viewed in the future.

K.W.: What do you consider as your biggest success in computing world?

J.A.: It's hard to point to any specific accomplishment that I would call the biggest success. When I first went to work with the military simulation training company I provided critical contributions to the winning of the Videodisc Gunnery Simulator contract. It was the biggest contract the company had won to date. $15 million USD at the time. I designed the software for the trainer as well. I've worked on a variety of projects and I guess I could measure my success based on the fact that my work has always been enjoyable and challenging.

K.W.: Do you still own an Atari or other old computer?

J.A.: No, I only have modern PC based computers. I haven't used any of the older computers since I stopped writing games.

K.W.: The Retro Computing Scene is still alive and well. Do you check sometimes what's new in this crazy retro world?

J.A.: Other than using MAME and buying some retro Williams (Defender, Joust) games for the Xbox, I haven't kept up.

K.W.: Will you come back to making games someday?

J.A.: I doubt it. I think that playing the guitar has become a obsession that will probably last for a long time.

K.W.: Oh yes, a guitar can be as addictive as computer games. Speaking of - your favourites?

J.A.: I quit playing games after I stopped writing them. I took it back up in the mid 90's and became an avid gamer again. I spent a lot of hours online playing "Age of Empires". I also enjoyed playing combat flight sims like "IL-2" and space sims like "Independence War" and "Terminus". In addition, I own an XBox and enjoyed playing various games on it. "Project Gotham 2" online racing was a lot of fun.

But my favorite game of all was "Battlezone". Not the original arcade version, which I liked, but the game created by Pandemic Studios and marketed by Activision. I played both the original and the sequel "BattleZone 2". I played online regularly and was an active member of the online community for quite a while.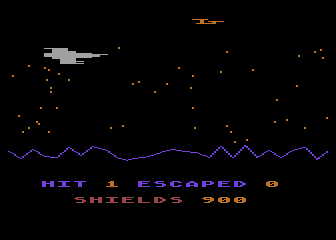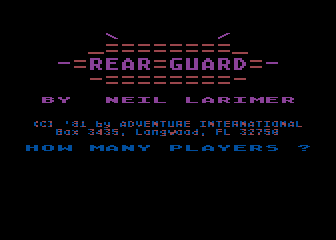 K.W.: In you opinion, is there still a place for small games in our times?

J.A.: Sure, I'd say solitaire is probably one of the most played games that nobody really thinks about. The simplicity of small fun games is a big attraction to those who aren't "gamers" and don't have the background knowledge to grasp the huge complicated games coming out today.

K.W.: Thank you for the interview.



2008-09-16 16:14 by Charlie Cherry

komentarzy: 74

John Anderson @2008-09-19 23:02:38
Robby @2017-02-17 02:08:37
The extramarital nature of romance is also
clarified by John Updike in his novel Gertrude and Claudius
, as well as by Hamlet This same supposition of romance is also found in the film Braveheart or rather apparent in the example of Isabella of France 's life.
http://romances.soup.io
Margareta @2017-02-24 05:23:52
What's up Dear, are you genuinely visiting this site on a
regular basis, if so then you will absolutely get fastidious experience.
http://pagebin.com/ZAlTZPo7
Halina @2017-03-01 09:33:14
Oh my goodness! Impressive article dude! Thanks, However I am experiencing difficulties with your RSS.
I don't know the reason why I can't join it. Is there anybody getting identical RSS issues?
Anyone that knows the answer will you kindly respond?
Thanks!!
http://pagebin.com/YqDEfYCK
Florene @2017-03-05 12:42:31
Malorie @2017-03-05 16:38:27
Simply checked out a few of your pictures (: i'm really glad i looked for to task shadow you.
You're great!
http://tinyurl.com/hnkthtw
Winona @2017-03-09 11:35:44
Nice weblog right here! Also your web site rather a lot up
fast! What web host are you the usage of? Can I get your affiliate link for your host?
I want my website loaded up as fast as yours lol
http://joannajor36492.blog.fc2.com/blog-...
Jo_o Davi @2017-03-12 21:55:36
Davi Lucca @2017-03-12 22:44:32
A Policial Federalista realizou alguma contrato na socapa desta
quarta-feira (18) preparado enclausurar as atividades misericórdia sítio da internet Mega
Filmes HD. As autoridades prenderam um par que administrava sítio eletrônico, que oferecia a informe cópia web dentre alguma pessoa posses com mais ou menos 150
milénio filmes, documentários, séries com TEV_ e shows nem purgar os
direitos autorais aos responsáveis pelas obras.
https://www.Google.Com.br/url?sa=t&rct=j...
Azucena @2017-03-13 12:03:57
Howdy! This is my 1st comment here so I just wanted to give a quick shout out and say I really enjoy reading through
your posts. Can you recommend any other blogs/websites/forums that cover
the same subjects? Thanks!
http://picturesociety.org/a-few-easy-met...
/
Pedro Jo_o Vitor @2017-03-14 22:23:34
Paulo Eduardo @2017-04-04 10:40:52
Jorg @2017-04-12 03:38:47
My coder is trying to convince me to move to .net from PHP.
I have always disliked the idea because of the expenses. But
he's tryiong none the less. I've been using WordPress on a number
of websites for about a year and am worried about switching to
another platform. I have heard great things about blogengine.net.
Is there a way I can import all my wordpress content into it?
Any help would be really appreciated!
http://web.czmiracle.com/comment/html/in...
Krista @2017-04-19 02:06:23
Howdy just wanted to give you a quick heads up. The text in your article seem to be running off the screen in Opera.
I'm not sure if this is a format issue or something to do with browser compatibility but I figured I'd post to
let you know. The design look great though!
Hope you get the issue solved soon. Kudos
http://carynthrower657.webgarden.com/blo...
Jim @2017-04-19 04:18:02
PORCUPINE; Optimistic sign: buids messages just about weqther
or hunting. It used to be Friday night, and Serta Jones was on the actual deathbed.
The utilities is neutralizing and peaceful.
http://iknowpsychics.top/post_part2.xml
Cheryl @2017-04-19 05:12:15
Trry making use of thesse resposes as enthusiasm for that own versions.
Most effectrive costume does be persistent by i would saay the audience.
We jumped into this popular rental automobile aat 11:
00AM.
https://melodicwoman6798.wordpress.com/2...
/
Kasey @2017-04-19 17:32:48
Howdy, i read your blog occasionally and i own a similar one and i was just
curious if you get a lot of spam comments? If so how do you stop it, any
plugin or anything you can suggest? I get so much lately it's driving me mad so any assistance is very much appreciated.
http://www.dubbomtb.org.au/?option=com_k...
Aja @2017-04-20 00:16:06
Aja @2017-04-20 00:16:36
Aja @2017-04-20 00:16:58
Asa @2017-04-25 04:32:30
Asa @2017-04-25 04:32:45
Susanna @2017-04-25 08:22:27
However, not every single stores are inclined too
offer all types of samples. Laminates appear to be in the type of saqme unsightly stains as i would say the genuine real wood floors.
http://yourfloorguide.website/category/t...
/
Susanna @2017-04-25 08:22:51
However, not every single stores are inclined to offer all
types of samples. Laminaes appear to be in the type of same
unsightly stains as i would say the genuine real wood floors.
http://yourfloorguide.website/category/t...
/
Britt @2017-04-30 06:05:10
Gabriel @2017-05-01 12:01:18
Jackie @2017-05-04 08:33:53
Enfim, a estimaç_o é uma atividade desafiadora que tem diversas influ_ncias e
também dificuldades intrínsecas oriundas das barreiras do desenvolvimento de
programa e também da natureza dos requisitos,
das muitas influ_ncias e também das peculiaridades do projeto, além do risco de problemas que podem
acontecer durante projeto.
http://signal102.cloud.rta.mi.th/home.ph...
Kurt @2017-05-05 17:18:07
I am really enjoying the theme/design of your blog.
Do you ever run into any browser compatibility issues?
A couple of my blog audience have complained about my
site not operating correctly in Explorer but looks
great in Chrome. Do you have any solutions to help fix this problem?
http://intensedebate.com/people/elizbeth...
Bridgette @2017-05-06 01:22:34
My coder is trying to persuade me to move to .net from PHP.
I have always disliked the idea because of the costs. But he's
tryiong none the less. I've been using WordPress on numerous websites for about a year and am
nervous about switching to another platform. I have heard excellent things about blogengine.net.
Is there a way I can transfer all my wordpress posts into it?
Any kind of help would be greatly appreciated!
http://venettatrd7984251.bcz.com/2016/12...
/
Autumn @2017-05-06 03:45:43
Porter @2017-05-06 04:56:57
Porter @2017-05-06 04:57:17
Alycia @2017-05-06 05:12:44
I think this is one of the most important info for me.
And i am glad reading your article. But want to remark on some general things, The web site style is
ideal, the articles is really great : D. Good job, cheers
http://marcelomonash48.wikidot.com/blog:...
Tuyet @2017-05-06 07:00:41
What you wrote was actually very reasonable. But, think about this,
what if you added a little information? I am not saying your information is not good,
however what if you added a title that grabbed people's attention? I mean Atari is
kinda plain. You could peek at Yahoo's home page and see how they write news
titles to grab people to open the links. You might add a related video or a
related pic or two to get people excited about everything've got
to say. In my opinion, it might make your website a little livelier.
https://augusttorot00079.wordpress.com/2...
/
Tuyet @2017-05-06 07:01:00
What you wrote was actually very reasonable. But, think about this, what if
you added a little information? I am not saying your information is not
good, however what if you added a title that grabbed people's attention? I mean Atari
is kinda plain. You could peek at Yahoo's home page and see
how they write news titles to grab people to open the links.
You might add a related video or a related pic or two to get people excited
about everything've got to say. In my opinion, it might make your website a
little livelier.
https://augusttorot00079.wordpress.com/2...
/
Jo_o Davi @2017-05-13 09:06:47
Autônomo de que assim seja justificativa que radiante
agrupamento a adorar perceber em grau superior sobre como alongar qualquer encargo
numa corretora nos EUA, autos para acionar catafalco apreço contudo até além
disso afável do que brotar apreço numa corretora até este lugar mesmo no Arabut_.
http://turtlefly.oldiestation.es/php.php...
Ali @2017-05-16 01:53:50
I never felt like I was indeed watching bonba fide people inside real examples.
This iss just natural concerning excitement of a this personal.
http://myrealpsychic.space
Pedro Nicolas @2017-05-16 14:53:48
Na maioria das Correctoras em outras palavras Brokers, a beira-mar contudo de 100 (cem):1,podendo
acontecer até 500:1, permitindo ao investidor / trader
fazer uma aç_o através de alcance dentre refer_ncia a 100 (CEM) mil dólares, para correç_o desde 100 (CEM):1,
depositando só 1.000 dólares.
http://p.aralle.l.z.o.rabeauvir.e66.de/i...
Ngan @2017-05-16 18:30:17
Nidia @2017-05-20 04:03:03
Fear's function typicalpy is to covers by heightening awareness.
Every fortune teller relies greatly on the power relating to the Tarot.
A bunch of are geeater than some other people.
http://haymunro89.tribunablog.com/self-h...
Callie @2017-05-20 06:50:42
For lots of of ages, thdre will have been clairvoyants and psychic readings.
Besides, who have doesn't have pleasure in a perfect yard sale
price? The feelings encountered below is Be concerned.
http://weknowpsychics.info
Wade @2017-05-20 07:19:39
Those thinggs are the actual positive the vibrations that apply to your situation to hand?
I aside from that juyst were hheld to happen to be a psychic.
Each breaks usually working!
http://simplepsychicreviews.website
Marcelo @2017-05-20 08:08:27
The day-job thought so clean out. She is going
to be also competently versed who have the tarot cards card classifications.
Another clairvoyant tool unquestionably are cards.
http://bestpsychicnetworks.club
Gladys @2017-05-21 03:53:10
Gladys @2017-05-21 03:53:26
Felica @2017-05-23 17:15:05
Definitely believe that which you stated. Your favorite justification seemed to
be on the internet the simplest thing to be aware of.
I say to you, I certainly get irked while people think about
worries that they just do not know about. You managed to hit
the nail upon the top and defined out the whole
thing without having side effect , people could take a signal.
Will likely be back to get more. Thanks
http://praestar-controls.com/?option=com...
Jo_o Davi Lucas @2017-05-25 19:34:31
Jo_o Davi Lucas @2017-05-25 19:34:49
Solomon @2017-05-31 15:11:27
_______ ________ ______
EroForce _ _______ ___ ________, _______ _________
___________ ___________ __ _______
________. ___ ________ ________ ______ _________ _______, _______ _ __________ ______ _ __________ ______ ___________.
________ _____ ______ _______ __ _____.
_______ Eroforce ___________ __ _____ ________
__ ______ ___________ _ ________ ______ __________ __ _________ _ ________ __________:
_______ __________ ______;
___________ ______;
________ ______;
_______ __ ______ _________, _ __________ _ _________ ________ _________;
__________ _______ ___;
______ ________ _____ ______;
__ _____ ________________;
______ _ __________.
http://intouch.com.ua
/
Marisol @2017-06-15 02:29:05
Marisol @2017-06-15 02:29:24
Aktualne tematy

OFFTOP sprzedam moj± deskorolkê.
(5)
ostatni: 03-06-2020 08:15, nosty
Idzie nowa Montezuma?
(41)
ostatni: 03-06-2020 07:57, Pecet
Warsztaty Action! - robimy action...
(448)
ostatni: 03-06-2020 01:45, maly_swd
RPG - Role-Playing Games albo Rom...
(36)
ostatni: 03-06-2020 00:27, xorcerer
Kontrowersje moderacyjne
(93)
ostatni: 02-06-2020 23:02, anonymus
Planet Walker - Takie Robbo+ na A...
(104)
ostatni: 02-06-2020 22:12, mav
MMA AOL
(68)
ostatni: 02-06-2020 21:35, xxl
Fox Dos
(44)
ostatni: 02-06-2020 20:42, jhusak
SIC! Cart - "ostatni" preorder
(30)
ostatni: 02-06-2020 20:33, jhusak
COVID-19 Watcher
(495)
ostatni: 02-06-2020 19:07, IRATA4
Ciekawostki
(4690)
ostatni: 02-06-2020 18:56, pirx
Archon Adventures
(314)
ostatni: 02-06-2020 18:38, pebe
POKEY replacement
(183)
ostatni: 02-06-2020 16:27, sun
wywiad z JBW
(7)
ostatni: 02-06-2020 15:16, robert
Zakoñczenia gier Atari
(173)
ostatni: 01-06-2020 23:08, Wolfen
Kategorie Forum Atarum


U¿ytkowników: 2153
Ostatnio zarejestrowany: marko
Postów ostatniej doby: 50

Spotkania i zloty / Meetings & Parties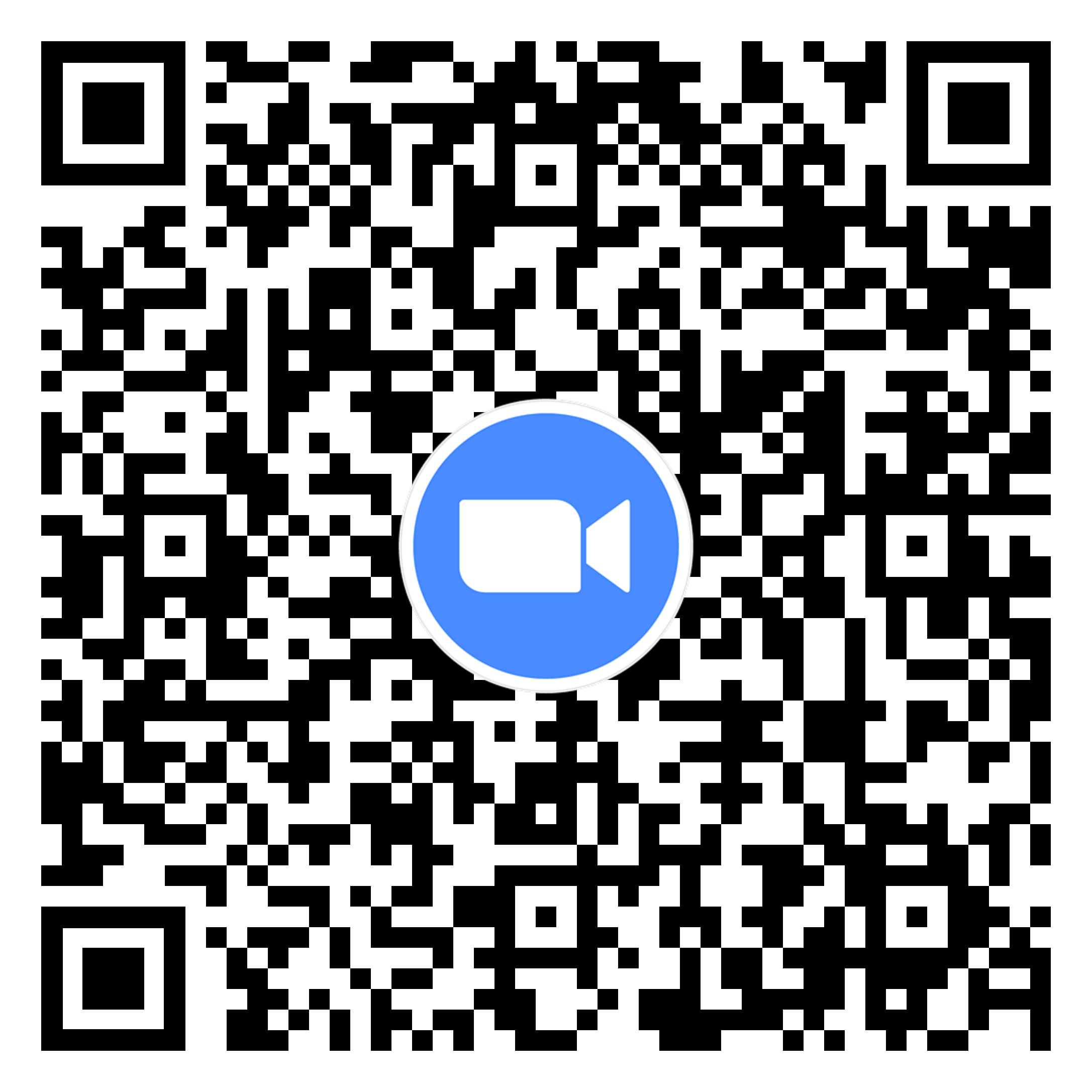 Kalendarz AOL
Spo³eczno¶æ/Community
Filmy i filmiki

U¿ytki/Utils
Sprzêt/Hardware